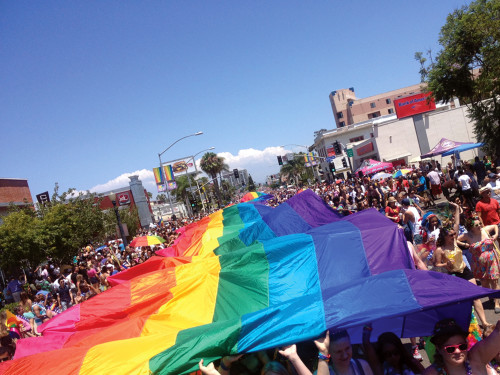 Dear Femmes, Butches and those who love us,
Once again, this is not a specifically BF posting – we hope to get back to those very soon and thank you for your patience (and do remember to send us your BF-related listings so we can share, share share)!  For now, we want to lift up San Diego Pride.
This  year's Pride Parade and Festival in San Diego, like so many others in the USA's current time of political craziness, has a theme: Allied in Action: United for Justice.  We are 110% in favor of this theme, of standing up for and with our brothers, sisters, sis-bros and bro-sisses (and everyone off the charts or in between!) and of making our words, hearts and lives audible and visible.  From Compton to Stonewall (if you are young and have not heard the story, here is an article to get you started), to the many courageous LGBTQueer peeps through the decades that have lived, fought, suffered and sometimes died for our rights, we are marching in this year's Pride Parades across the nation not simply in joy and fun, but as dedicated Warriors of Heart for our freedom and justice.
If you are around the San Diego area this weekend, do consider adding your presence to this important weekend.  Friday, July 14th at 6PM is the
   (Click here or the banner above for link to Rally page)
With all the movement the LGBTQxyz community has made, in the deep past as well as  the recent, we at BFL find the idea of moving backwards utterly nauseating.  Please stay strong, visible and as beautiful as you are!
With Love,
The BFL Team
The official webiste for SD Pride lists all the goings-on: https://sdpride.org/